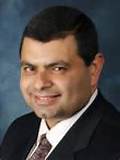 Ash Shehata
More than Medicine
Partner, Advisory Services
KPMG, LLP
A vastly experienced healthcare professional who's been at the cutting edge of IT advances in the sector.
Pushing the boundaries of technology in healthcare
In a career spanning over 25 years, Ash has worked for some of the world's leading IT and consulting firms, using technology to drive improvements such as telemedicine, e-commerce, membership systems, customer service and healthcare management.
As Senior Executive Director Healthcare for Americas with Cisco, he was responsible for payers, providers and life sciences accounts including the Mayo Clinic, WellPoint, Cigna, Wellcare, Medtronic and Kaiser. He led the development and deployment of telemedicine solutions with key clients and government agencies.
Prior to this, Ash was Vice President Health Solutions for Wellpoint, supporting over 32 million members (one in 10 Americans) in enterprise applications. He also held senior positions with KGT Global Technologies, IBM and Accenture, leading executive teams in the US and around the world through major change programs in hospitals, medical service providers, physician group practices and managed care organizations.
Ash's breadth of experience is typified by his first two roles: firstly as owner of his own consulting and medical management business, and then with The University of Cincinnati Medical Center in the US, where he managed a US$250 million annual budget for several departments including Radiology, Nuclear Medicine, Lab Medicine, Managed Care, Cancer and Pharmacy.
He has a Master in Hospital & Health Administration, an MBA and a Bachelor's in Psychology, all from Xavier University in Cincinnati.